#aws (2021-05)

Discussion related to Amazon Web Services (AWS)

Discussion related to Amazon Web Services (AWS)
Archive: https://archive.sweetops.com/aws/
2021-05-04
anyone got a good reason to use savings plans over RIs?
2021-05-05
2021-05-07
Hi, when I use multiple packages like aws-elastic-beanstalk-environment and terraform-aws-documentdb-cluster I get the error that the security group for the vpc already exists.
First terraform creates the documentDB and then the elastic beanstalk stack.
I would now expect that if I use allowed_security_groups = [module.vpc.vpc_default_security_group_id] for both, that both are in the same security group. is this not correct?
I have hit a wall when trying to remove an eks cluster. I have added null_data_source.wait_for_cluster_and_kubernetes_configmap as per the README, but now when I'm trying to delete the cluster I get Error: Get "<http://localhost/api/v1/namespaces/kube-system/configmaps/aws-auth>": dial tcp [::1]:80: connect: connection refused We are wrapping the cloudposse module with a thin layer, so I'm looking into that as well, but is this somethign that others have seen?
2021-05-12
Hi all, looking for some networking advice. I'm looking to deploy an EKS cluster with managed nodes. I'm trying to figure out how to best size the VPC. All the nodes will be in private subnets, for a nonproduction account there will be 2AZ and for prod there will be 3AZ. For nonprod, I've got the following
/24 VPC 256 host

/26 private subnet
64
64

/28 public subnet
14
14

Any suggestions on what a setup for prod would look like, I'm thinking a /25 CIDR, but I'm not really sure
2021-05-14


We are investigating increased API error rates and increased provisioning/registration latencies for ELBs in the US-EAST-1 Region. Connectivity to existing load balancers is not affected.
In case interested I threw together a custom AWS weekly update digest if you want a way to keep up and don't have a method already.
There are better ways I'm sure but this is custom and has social media top posts too. I didn't use Cloudpegboard because pretty sure I can't include redistributed updates from them on my digest if I share it.
YMMV. Reply to email and it will email me if you have any customizations.
https://app.mailbrew.com/sheldonhull/aws-cloud-news-6TwkFMMyI1ea?aff=sheldonhull
AWS Cloud News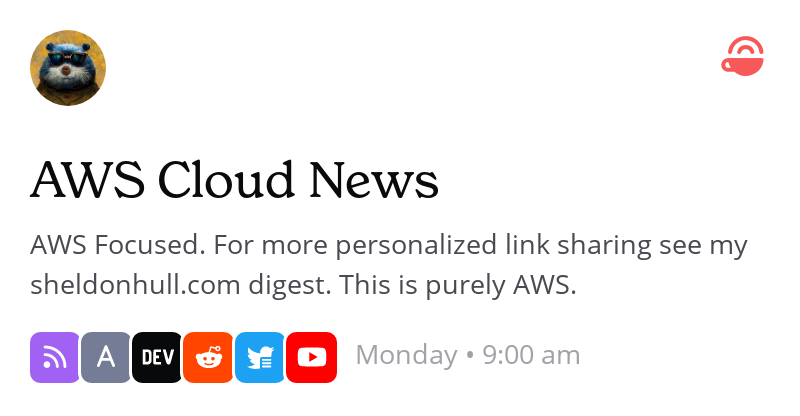 AWS Focused. For more personalized link sharing see my sheldonhull.com digest. This is purely AWS.. Curated by Sheldon Hull.
2021-05-17
i want to be able to change instance size using airflow dags, any ideas?

ALB should be automatically adding an X-Forwarded-Proto header to incoming requests, is that correct?
I believe it sets it but doesn't pass it through if set upstream

Their documentation is very ambiguous on whether its set. But we have an app seeing that header as 'null' on the other side so we're a bit confused.
2021-05-19
Looking for advice on Transit Gateway - Should you create and maintain seperate Dev and Prod TGWs or use one TGW with Prod and Dev Spokes attached and managing the routing with the TGW route tables to ensure dev spoke can't reach Prod Spokes?
Personally I'd say always have at least two of anything - if you have a dev-tier and prod-tier (TGWs in this case) then you have somewhere lower risk to apply changes before you start affecting production, but you still have the headache of routes/config being specific to combinations of environments
Having multiple of anything also forces everyone to cater for a different reality, which is useful for DR, other regions, additional environments etc.
I do like separation as @bazbremner already mentioned. Depends what you want to achieve, and how your architecture looks like, and in same time to be cost effective . For example if you want to connect your own network with AWS over site-to-site vpn tunnel you would need to do it for both tgws, and that add additional costs…
2021-05-20
I'm having a problem getting nginx as a reverse proxy to work in docker compose. I've tried to use the mkcert + docker-gen +nginx combo (want to stick with docker compose).
My goal was to allow local development easily against what I'd be deploying to ECS fargate. Almost all the projects I'm working with need this pattern of reverse proxy to support ssl termination as an option.
Anyone have a docker compose project that spins up a reverse nginx proxy and uses docker-gen? I'm ok with using the tmpl file too, but so far no luck in getting anything other than direct access to container, no redirect from root oauth to /appname. Probably removing docker-gen soon but would be nice if I could leverage the automatic config it offers.

I have a root "dockerize" process sending logs to STDOUT from files on the container, which are showing up when running docker locally. However, these logs don't appear when running in AWS ECS using the awslogs driver. Any thoughts on what the issue might be?
2021-05-21
does anyone have any strong opinions on an AWS infra tagging taxonomy?
2021-05-24

Hey guys seem to be having read time out connection issues trying to run Terraform applys from CircleCI on AWS currently. Is anyone else experiencing this?

we're seeing the following Trace breakdown for a Java runtime based AWS Lambda. I know Java has a hefty cold-start time and I would expect the JVM starting would fall in the "Initialization" phase of execution. What is the 10 second gap before the Initialization phase that is happening in this trace?
2021-05-25

Hey guys, one of the API we're about to use requires IP whitelisting. Is there a way how to configure http proxy using AWS without the need to configure e.g. tinyproxy or nginx?
2021-05-26
Any reason to prefer account-scoped cloudtrails over organization-scoped cloudtrails? I noticed that terraform-aws-components seems to be preferring account-scoped trials.
multi-payer/multi-org environments is the main reason for me
we have some accounts that need to strictly separate billing, but everything else (cloudtrail, securityhub, guardduty, etc) can be linked to a single management account
2021-05-27
Hi All, I wanted to know is there any way in AWS to notify us if s3 bucket or lambda function is down using SNS with cloud watch. Thank you
2021-05-29
Hey everyone, I'm excited to be part of this slack channel! Are there any recommended terraform/ansible repos with AWS that have prometheus/grafana visualization incorporated that you all pull from easily? I'd rather not work through and write up the IaC for it from scratch
Best CI CD tool? Looking for the absolute best. PHP shop. Replacing all of our tooling so I can really start from scratch. Currently vetting CICD vendors