Job opportunities (hiring or looking)
Archive: https://archive.sweetops.com/jobs/
2020-04-01
Erik Osterman (Cloud Posse)
2020-04-02
[THREAD] Anyone here have experience with ActiveState?
[THREAD] Sign-on bonus a reality?
If you aren't working for the FAANG, and doing DevOps oriented style work, have you found companies that actually do sign-on bonuses? I've never experienced this, but my primary dev experience is only 2 companies in the real-estate sector. Would like to know from others if that's rare or actually out there!
Peer of mine looking for a new opportunity.

Maybe you can give him solid advice to always export to pdf and share the pdf instead.
@dustinvb I have a position in West LA that could be a really good fit. I didn't see a location on there, but could you have them reach out [email protected]
2020-04-04
Erik Osterman (Cloud Posse)
2020-04-06
Hi all, we are currently hiring for the above position (amongst others). We build a number of different products, though one of particular interest currently is an automated floor scrubber.
Does an employee get a green card?
Hi Mikhail, I will have to check on this. I'm not well-versed on visa issues, but will follow up with our HR department.
We generally require folks to be on site in Pittsburgh, but we're all (obviously) working from home currently.
Our CEO and CTO (who also co-founded CRL) started Uber ATG. We have a great team of hard-core robotics folks, but cloud is fairly new as we start to build out fleets of robots.
Erik Osterman (Cloud Posse)
Layoffs.fyi Coronavirus Tracker - Layoffs.fyi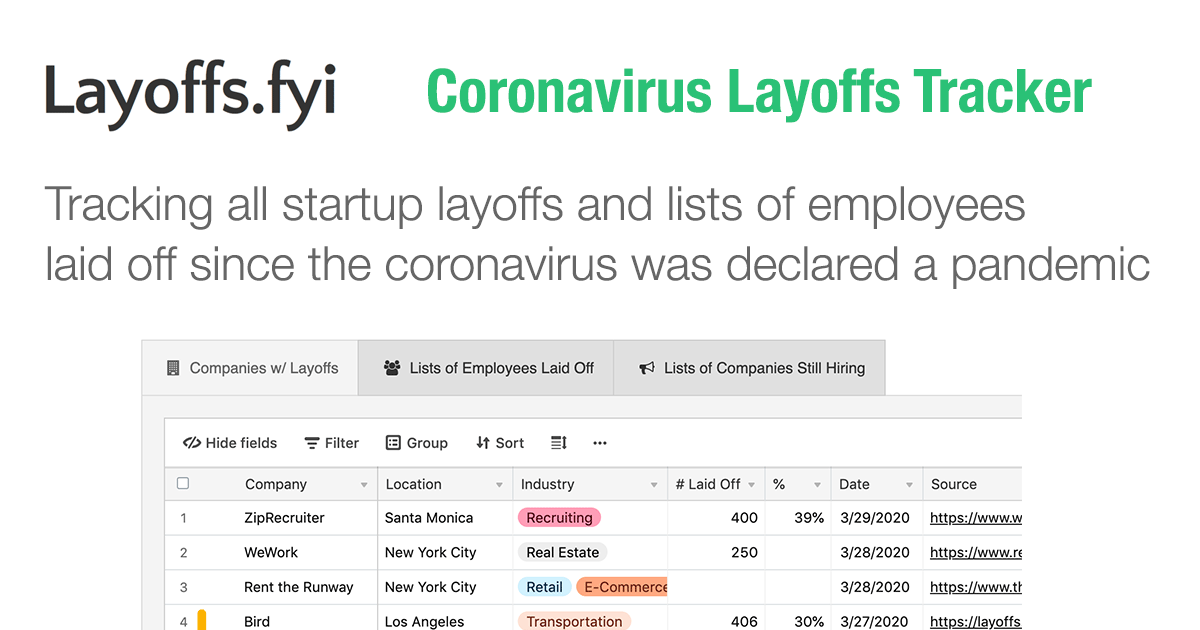 [LIVE] Tracking all tech startup layoffs — and lists of employees laid off — since COVID-19 was declared a pandemic. This page is constantly being updated.
https://boards.greenhouse.io/calm/jobs/4700490002
Caaaaaaaaaaaaaaaalm https://calm.com
Is hiring DevOps If you're here and reading this.. then you already rock. Please @ me or DM me and I can kick off the process more. US only at the moment.
(Ok, generic stuff complete.. lol)
We're on AWS, EKS. We use Helmfile, Helm, internal Jenkins on ECS/Fargate (1 single pipeline for all services), Atlantis for developers.. Terragrunt for our other infra stuff.. Datadog.. uhhh.. we don't have any one-off ec2 instances. It's a pretty damn awesome setup.
It's totally a calming place. I definitely sleep better at night because i'm not fighting fires or doing baloney on the weekends. Highly recommend.
Me, @Ronak, @stobiewankenobi, @Joe Bagdon, @Chase Ward all work at Calm. They can vouch for it too.
Sr. DevOps Engineer (Site Reliability Engineer)
San Francisco
@Joe Bagdon has joined the channel
I don't know about the job but this Ryan guy is chillin' me out with his words. @rms1000watt lives up to the name of his company.
I went to the Calm site, declined cookies, and it kicked me out to a breathing exercise. Is it telling me I should chill out about privacy?
rofl. hahahah. let me tell some of the web guys. this is pretty funny
…this is definitely something we'd have done on Thrive if we'd had a web app… ;D
2020-04-14
any thoughts or opinions (or articles) on what goes into a good job listing? from the candidate perspective, i mean. what makes a position/company/offer attractive?
Erik Osterman (Cloud Posse)
from my biased perspective:
• nice github presence of open source projects
• positively reviewed on sites like glassdoor
• culture videos make me want to work there
• "work from where ever" policy (or more like "get sh*t done" (GSD) policy")
• a list of typical kinds of projects or tasks I would be responsible for
Thanks @Erik Osterman (Cloud Posse)!
2020-04-20
Erik Osterman (Cloud Posse)
LinkedIn has added a new way to promote your profile to recruiters
Erik Osterman (Cloud Posse)
(unfortunately, no way to tell recruiters to not contact you)
That's been around a while, I've used it before last time I was job searching in early 2018. That said, recruiters blatantly ignored the message I put in there. They also ignore that setting when you're not looking for a job. Pretty frustrating really.
There is a way to show a message to them somehow
but I think you have to have turned on the "I'm looking for a job" flag
my message has been "send me the JD along with salary range for the role. Failure to send these will result in you being blocked"
2020-04-22
Hi Everyone!
My name is Adedayo and I am a DevOps and Site Reliabiility Engineer, I have been working for my current company (a startup) for more than 2years now, It's been a wonderful journey so far, however I don't feel challenged anymore, and I have been looking for more challenging opportunities because these are also the things that accelerate my career.
My CV is attached below, I will appreciate helps and referrals from this group.
My email is: [email protected]
thanks Everyone

2
2020-04-27
Hi guys! I'm Aumkar and I'm primarily a Full Stack Dev with a side of experience in DevOps, my role was considered Full Stack but I did quite a bit of DevOps as well in my role. I had been working at my former employer for about 2 years at this point. Unfortunately I was laid off due to loss of work at my employer and now I'm looking towards greener pastures. I've tossed in my resume, feel free to contact me on LinkedIn, or email me at [email protected]! Take care guys.
Aumkar

Hi everyone, I am trying to improve our interview process for devops.

Any recommendation on what type of take home exam would be good?

Or how should we conduct our devops interview remotely — open to suggestions.
Erik Osterman (Cloud Posse)
Erik Osterman (Cloud Posse)
also scroll up from that point. looks like i didn't link to the top of the conversation

Yeah i did. this is a good thread