Job opportunities (hiring or looking)
Archive: https://archive.sweetops.com/jobs/
2021-09-01
Hello all, I'm hiring a Senior DevOps Engineer for our team. Rapid7 is a cyber security company that provides vulnerability management, incident detection and response and application security software and services.
The stack:  AWS, Kubernetes, Java, Ruby, Python, Chef, Jenkins
What you will do:  We focus on enabling the product teams to develop and run their microservices on secure and scalable infrastructure. We strive to provide a streamlined development experience to our fellow engineers. Additionally we work to maintain a secure and reliable product experience for our customers. Currently we are building the next generation of our platform on Kubernetes and looking for engineers to help contribute to that initiative and more! You can apply here: https://www.rapid7.com/careers/jobs/detail/?jid=R3196
2021-09-02
Yoni Leitersdorf (Indeni Cloudrail)
Any Terraform Enterprise experts looking to do consulting work? We're updating our support for Terraform Enterprise and are looking for help! Please DM me directly.
2021-09-03
Hi there,
Cutover are currently hiring for our Core Platform Team! 
Cutover is an orchestration and observability platform that enables seamless human and machine collaboration.
Stack: AWS, Kubernetes, Terraform, Jenkins, Git, Ansible, Ruby scripting
We are looking for:
• A Senior Cloud Engineer in our London office (or fully remote based in the UK)
• A Senior Cloud Engineer & Junior Cloud Engineer located in our New York office If you think you're be a good fit for any of these roles or know someone looking, then feel free to drop me a message 
2021-09-07
Hey all! At Leadfeeder we are looking for a Site Reliability Engineer within Europe to join our remote-first SRE team! You can read more about us and the role here//www.leadfeeder.com/jobs/site-reliability-engineer/>
•  Role: Site Reliability Engineer
•  Tech stack & tools (to name a few): AWS, Terraform, Kubernetes, RDS, Elasticsearch, Cassandra…
•  Location: Remote, physically located in Europe
•  Compensation: $80K-$120K USD / year (as a contractor) Any questions don't hesitate to DM me!
Site Reliability Engineer | Leadfeeder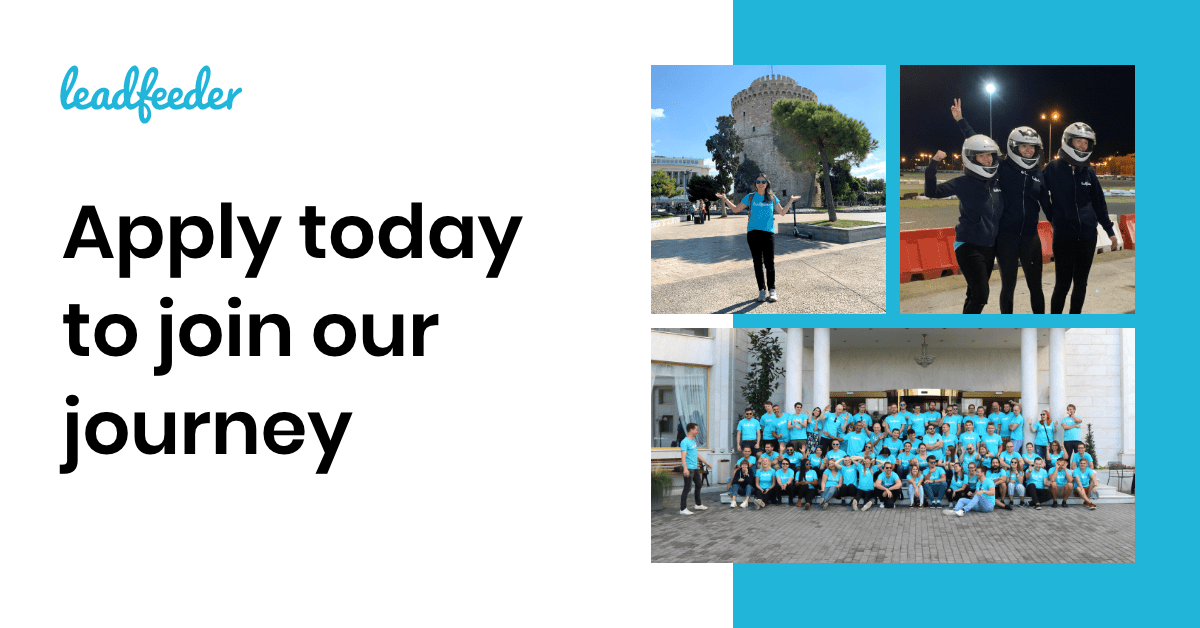 We are looking for a talented Site Reliability Engineer to join our team.
2021-09-09
Pie Insurance - Engineering Manager
Pie Insurance is an insurtech company tackling meaningful problems. At Pie, we work with small businesses using technology and innovation to improve how they access insurance. Like our small business clients, we are a diverse team of builders, dreamers, and entrepreneurs. So, at the heart of every decision we make is the idea that if it doesn't serve our clients, it doesn't serve us. Today, all Pie-oneers are working remotely and will continue to do so until it is safe to return to the office. As a remote team member, you will be expected to be available for meetings with team members in other time zones and have access to reliable, high-speed internet. This role will work in our Denver office once our office re-opens. However, we will consider this role for continued remote work once our offices reopen with up to 25% travel to Denver and/or DC. How You'll Do It The Engineering Manager will be highly focused on managing a dynamic group of people. They are responsible for hir
2021-09-16
Hopin is hiring! We're looking for someone to come in and lead two teams of Infrastructure Engineers in a predominantly people management role. You'll lead two teams, our Observability Engineering and Performance Engineering teams.
Our infrastructure is currently based on AWS, with a lot of k8s and Terraform in the mix. You should have been managing for at least 5 years, ideally including geographically distributed teams (although after the last 1.5 years that's probably a given…)
Senior Engineering Manager, Infrastructure
Remote EMEA
2021-09-21
Hey everyone! I'm currently looking for Sr. DevOps Engineers, Site Reliability Engineers, and Lead Security & Compliance Engineer. If you or anyone you know in these fields is looking, I'd love to talk! Here's a posting for the Sr. DevOps Engineer, others will be up soon. https://jobs.lever.co/boulevard/5a22514d-2438-4d08-ab5f-f3887e468201
Boulevard - Senior DevOps Engineer
Come do the best work of your life at Boulevard. Our engineering team has one simple but lofty goal: deliver a delightful experience to our service providers and their customers. You'll have the opportunity to build an extraordinary platform that is massive, scalable, and highly available. As a DevOps Engineer at Boulevard, you will be responsible for designing and building the scalable platform that allows the rest of our team to move quickly & efficiently. This role will be a part of a team that oversees our core infrastructure needs, which includes our AWS environments, Site Reliability, CI/CD, and Security & Compliance. Through a combination of open source and proprietary in-house technologies, you'll lead the way in shaping how Boulevard embraces the cloud, and all the various facets that go along with security & compliance. You'll also have hands-on experience in monitoring our high-throughput payments processing infrastructure.